Scoliosis
R. A. Lovell FRCS(orth)
Skoliosis (Gr): Crookedness
Normally taken to mean lateral curvature of the spine. In fact, usually a triplanar deformity comprising lateral curvature with rotation and sagittal plane deformity (usually lordosis or hypokyphosis).
Subdivided into:
1) Idiopathic- cause unsure.
Infantile Below 3 years
Juvenile 3-10 years
Adolescent 10 years - skeletal maturity.
2) Secondary- identifiable cause.

Congenital
Neuromuscular
Degenerative
Post trauma/tumour/infection
Postural
Idiopathic Scoliosis
Aetiology
Still unknown. Many theories suggested.
Multifactorial.
Strong genetic predisposition.
Abnormalities in platelet calmodulin levels suggested.
Melatonin synthesis and metabolism implicated.
Biomechanics
Overgrowth of anterior column leads to buckling and rotation of the vertebral column. Spinous process deviates into concavity.
Heuter-Volkmann law states that pressure on epiphysis retards growth whilst distraction increases growth (consider Blount's!). This is thought to explain curve progression.
Characteristic deformities- lateral curvature, rotation, lordosis & wedged vertebrae.

Infantile Idiopathic
More common in males cf adolescent.
Convex to left cf adolescent.
Not present at birth.
Associated hip dyplasia and plagiocephaly.
Must exclude- neuromuscular, congenital, myelodyplasia, intradural pathology.
Assess with plain radiographs- curve magnitude and pattern
MRI- ?underlying abnormality.
Fig.1 Rib Vertebral Angle Difference of Mehta (Mehta JBJS(Br) 54:230 1972).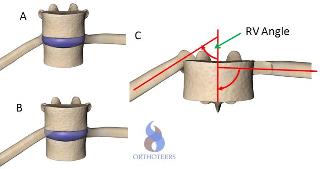 Measure difference between sides (RVAD)- a measure of rotation.
If <20 degrees- low risk of progression.

Treatment:
If Cobb angle <25 degrees, RVAD <20 degrees observe.
May resolve spontaneously.
If more than this serial casting and bracing.
Surgery for failed bracing or rapid progression.
Options- Instrumentation without fusion- preserves

This is a preview of the site content. To view the full text for this site, you need to log in.
If you are having problems logging in, please refer to the login help page.