Acute Wrist Trauma
'Sprained wrist does not exist' is a diagnosis only made in retrospect, after two sets of x-rays a fortnight apart (& a bone scan if still symptomatic).

Always examine carefully for carpal instability & look for occult fractures.

---
CARPAL INJURIES (bony avulsions of ligaments)
Progressive ligamentous disruption due to forced hyperextension.
Scapolunate, then Capitolunate then Triquetrolunate then dorsal radiocarpal ligament failure.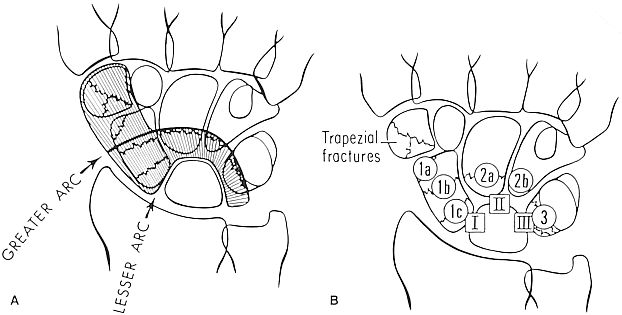 Lesser Arc (ligament only)
Perilunar dislocation
Lunate dislocation
Greater Arc (through bone)
Trans-scaphoid perilunar dislocation (DeQuervain's injury) Rare
Trans-capitate perilunar dislocation

Lesser arc injuries
Perilunar dislocation (carpus dislocated dorsally off Lunate)
Lunate dislocation (lunate dislocated and angulated volar) may be two stages of the same process.
The displaced lunate does not always cause compression of the median nerve or lead to AVN of the lunate (a flap of capsule remains attached)
Examination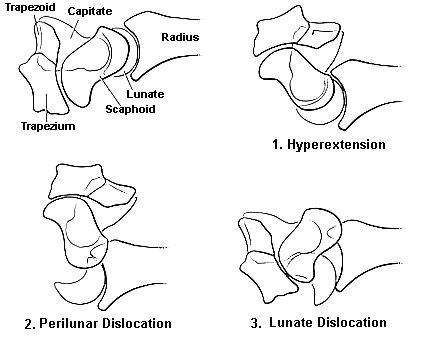 Bruising and tenderness over ligaments.
Chronic Watson's catch-up clunk of rotatory instability of scaphoid.
This is a preview of the site content. To view the full text for this site, you need to log in.
If you are having problems logging in, please refer to the login help page.