Angular 'Deformities' of Lower limbs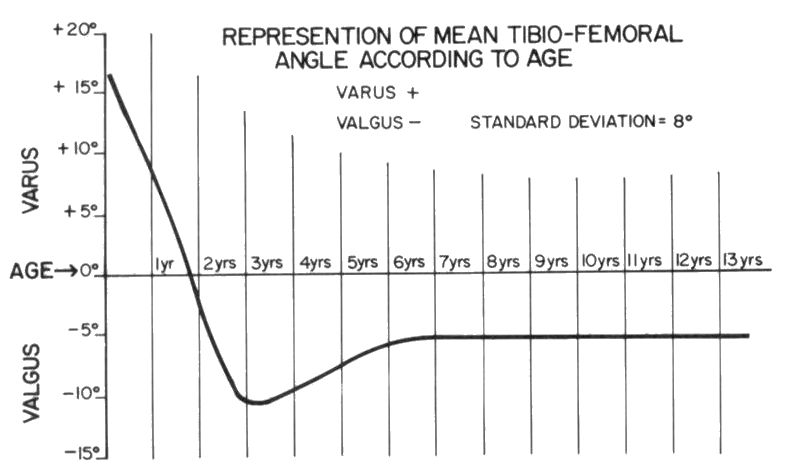 ---
Physiological Genu Valgum
Presentation - Usually at 'cruising'age
Symptoms - Parents notice bowlegs, intoeing
 History
- 

Ask about dietary deficiency,

Family history, rate of

progression
Examination:
Look generally for obvious signs of rickets, (Short stature, rickety rosary etc)

 

Measure distance between medial femoral condyles with medial malleoli touching, and patellae facing forwards

Where does mechanical axis fall from ASIC?
Investigation:
No Xray necessary till at least 18mnths of age, unnecessary worrying

 

Transverse planes of knee and ankle joint tilted medially

Bilateral

epiphyses, physis and metaphysis normal
Pathological conditions causing varus deformity of the legs:
1.
Metabolic bone disease

      
Vit D deficiency

Vit D refractory rickets

Hypophosphatasia
2.
Assymmetrical growth arrest or retardation
3.
Bone dysplasia
Metaphyseal dysplasia

Dwarfism

Enchondromatosis
4.
Metal intoxication
5. Congenital
This is a preview of the site content. To view the full text for this site, you need to log in.
If you are having problems logging in, please refer to the login help page.