Metabolic response to trauma
SUMMARY
| | | | | |
| --- | --- | --- | --- | --- |
| Phase | Duration | Role | Physiological | Hormones |
| Ebb | <24hrs | maintenance of blood volume; catecholamines | decr. BMR, decr. Temp, decr. O2 consumption; vasoconstriction; incr. CO, incr. HR; acute phase proteins | Catecholamines, Cortisol, Aldosterone |
| Flow | | | | |
| Catabolic | 3-10 days | maintenance of energy | incr. BMR, incr. Temp., incr. O2 consumption, negative nitrogen balance | Incr. glucagon, insulin, cortisol, catecholamines - but insulin resistance |
| Anabolic | 10-60 days | replacement of lost tissue | positive nitrogen balance | Growth hormone, IGF |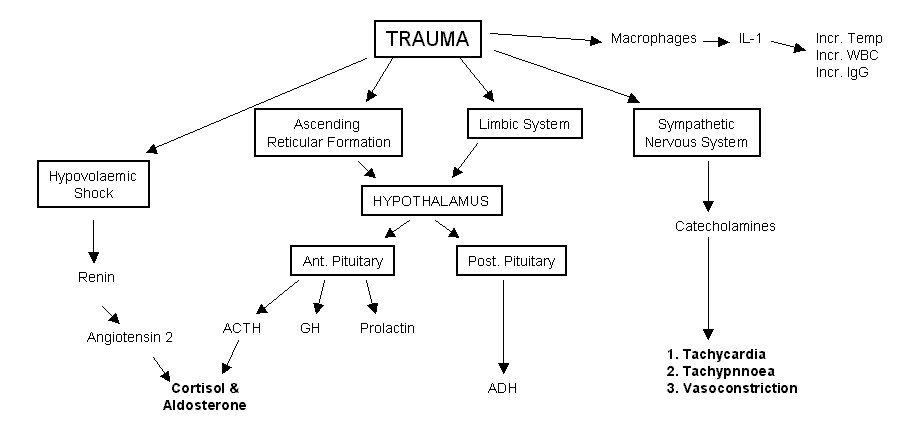 ---
Bodily injury is accompanied by systemic as well as local effects. Any stress, which includes injury, surgery, anaesthesia, burns, vascular occlusion, dehydration, starvation, sepsis, acute medical illness, or even severe psychological stress will initiate the metabolic response to trauma.
Following trauma, the body responds locally by inflammation and by a general response which is protective, and which conserves fluid and provides energy for repair. Proper resuscitation may attenuate the response, but will not abolish it.
The response is characterised by an acute catabolic reaction, which precedes the metabolic process of recovery and repair. This metabolic response to trauma was divided into an ebb and flow phase by Cuthbertson.
The ebb phase corresponds to the period of severe shock characterised by depression of enzymatic activity and oxygen consumption. Cardiac output is below normal, core temperature may be subnormal, and a lactic acidosis is present.
The flow phase can be divided into
a catabolic phase with fat and protein mobilisation associated with increased urinary nitrogen excretion and weight loss, and
an anabolic phase with restoration of fat and protein stores, and weight gain.
In the flow phase, the body is hypermetabolic, cardiac output and oxygen consumption are increased, and there is increased glucose production. Lactic acid may be normal.
---
This is a preview of the site content. To view the full text for this site, you need to log in.
If you are having problems logging in, please refer to the login help page.