Shoulder biomechanics
SCAPULO-HUMERAL RHYTHM
The scapula must upwardly rotate to allow overhead activity.
Scapulo-humeral rhythm=
The first 45 degrees of humeral abduction is accompanied by movement of the scapula.
For every 15 degrees of abduction that occurs there is 10 degrees at the gleno-humeral joint and 5 degrees at the scapulo-thoracic joint.
The range of glenohumeral to scapulothoracic motion is 2:1
Loss of this smooth motion (normal scapulo-humeral rhythm) can result from alterations in the normal postural relationships of the humerus and scapula.

HUMERO-THORACIC RHYTHM

Represented by the Global Diagram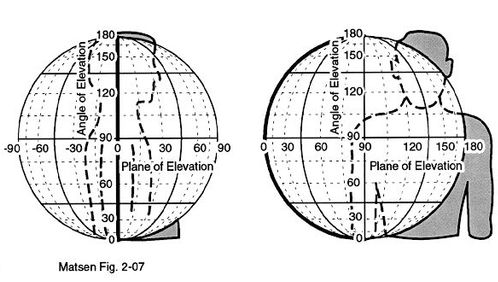 The global diagram is an effective method for displaying humerothoracic positions because it allows presentation of both the planes of elevation ("longitudes") and the angles of elevation ("latitudes").
The details of humeral motions can be indicated on a global diagram as a series of points or arrows .
This is a preview of the site content. To view the full text for this site, you need to log in.
If you are having problems logging in, please refer to the login help page.