Hand Infections
Hand infections less common than foot infections due to relatively good blood supply.
Most infections are staph aureus, but many infections are due to multiple organisms and 30-40% grow anaerobic species..
Other organisms include streptococci, enterobacteria, pseudomonas, enterococci, bacteroides.
Rarer organisms are Mycobacteria, gonococcus, pasteurella multocida (in cat or dog bites ), Eikenella corrodens (in human bites), Aeromonas hydrophilia, Haem Influenza (in children from 2 months to 3 yrs).
Always take a good history, diabetes? Fight bite?
Always examine the arm for spreading lymphangitis and palpate lymph nodes.
Epitrochlear lymph nodes drain ring and little finger
Axillary nodes drain the radial digits
Cellulitis resolves with antibiotics only and elevation. Flucloxacillin and benzylpenicillin +/- Augmentin if a bite is involved.
Pus under pressure requires surgical drainage THERE IS NO ALTERNATIVE.
---
Incisions for Hand Infections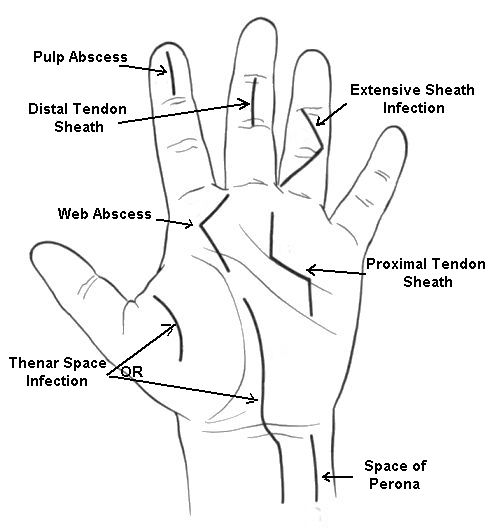 This is a preview of the site content. To view the full text for this site, you need to log in.
If you are having problems logging in, please refer to the login help page.