Wrist
Through a 10 cm dorsal curvilinear incision centered over Lister's tubercle, expose the dorsal carpal ligament and define the fibrous partitions separating the tendon sheaths on the dorsum of the radius and ulna. Divide this ligament and the underlying periosteum over the tubercle, taking care not to injure the tendon of the extensor pollicis longus; dissect between the EPL & EDC tendons. Elevate the periosteum of the distal inch of the radius, but preserve as much as posssible the extensor tendon sheaths. Retract the extensor tendons of the fingers medially (toward the ulna) to expose the dorsum of the wrist joint and to allow transverse incision of the capsule.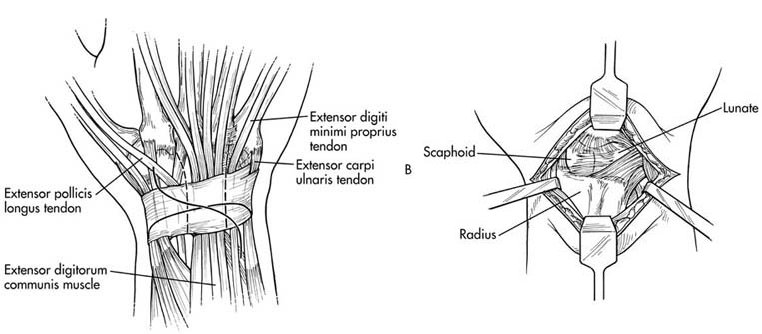 This is a preview of the site content. To view the full text for this site, you need to log in.
If you are having problems logging in, please refer to the login help page.