Shoulder
Anterior (Deltopectoral) Approach
Position:

Landmarks:
Coracoid process
Deltopectoral groove - often easier to see - especially in a thin pt where the cephalic vein can be seen
Internervous plane:
Deltoid (axillary nerve)
Pectoralis major (medial and lateral pectoral nerves)
Incision:
Starting just above the coracoid make a 10-15cm incision in the line of the delto-pectoral groove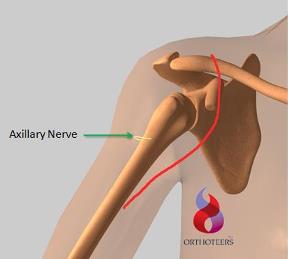 Superficial Surgical Dissection:
Using the cephalic vein as a marker , identify the delto-pectoral groove.
The vein can be taken either medially or laterally - some advocate taking it mediallyt with a small cuff of deltoid to reduce number of tributaries that need ligation - this small cuff is then denervated however.
Split the deltoid and pec major.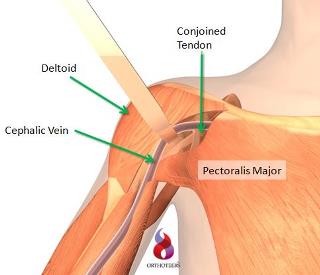 Deep Surgical Dissection:
The conjoint tendon of coracobrachialis and the short head of biceps can be retracted medially to expose the subscapularis tendon. However,

This is a preview of the site content. To view the full text for this site, you need to log in.
If you are having problems logging in, please refer to the login help page.