Proximal Humerus Fractures
Codman(1934) first described the 4 main fracture fragments (segments) & their attachments, which cause displacement:
Greater tuberosity - supraspinatus, infraspinatus & teres minor

Lesser tuberosity - subscapularis

Head

Shaft - pec major (displaces shaft medially & internal rotation)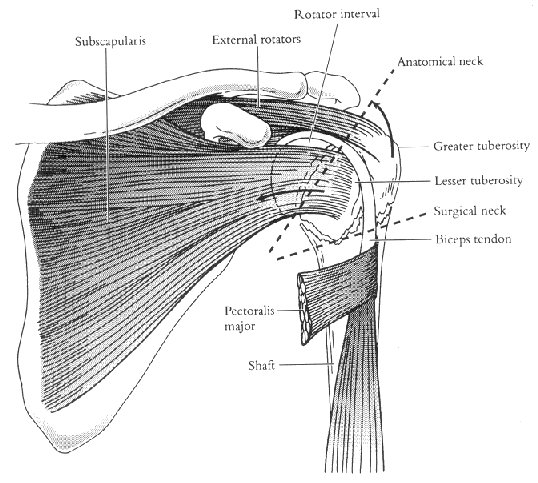 Neer Classification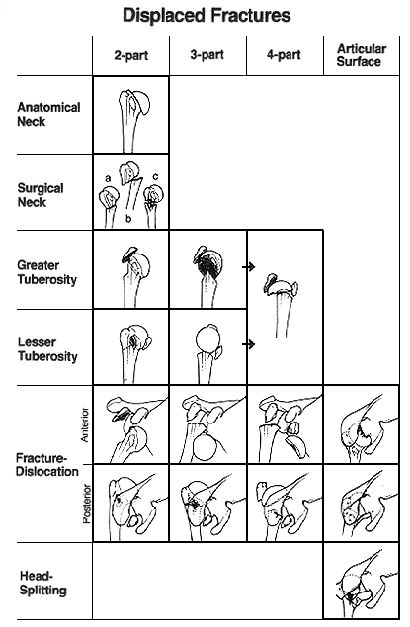 first described in 1970, then simplified in 1975.

Developed from the retrospective review of 300 fractures.

Requirements to classify fractures:

Adequate radiographs (= Trauma series +/- CT scans)

Knowledge of the pathology & deforming forces

Segment Angulation of 45deg.

Segment Displacement of 1cm

Reliability of Neer classification:

Kristiansen B, Andersen UL, Olsen CA, Varmarken JE.  Skeletal Radiol. 1988;17(6):420-2. - did not use full trauma series; used a condensed Neer classification; intra-observer reliability was not assessed.

Sidor ML, Zuckerman JD, Lyon T, Koval K, Cuomo F, Schoenberg N. J Bone Joint Surg Am. 1993 Dec;75(12):1745-50. - demonstrated that experience improves reliability.

Siebenrock KA, Gerber C. J Bone Joint Surg Am. 1993 Dec;75(12):1751-5. 
---
Trauma Series Radiographs:
| | | |
| --- | --- | --- |
| | | |
| Anteroposterior view - in plane of scapula | Lateral view - in plane of scapula | Velpeau modified axillary view |
Must have all three films to classify according to Neer (can use CT scans as well)
This is a preview of the site content. To view the full text for this site, you need to log in.
If you are having problems logging in, please refer to the login help page.