Orthopaedic infections in children
Acute Haematogenous Osteomyelitis
Pathology
1. Inflammation
Acute inflammatory reaction with vascular congestion
Rise in intra-osseous pressure causing intense pain
2. Suppuration
At 2-3 days pus forms within the bone and forces its way down the haversian canals to the surface where it forms a sub-periosteal abscess
The pus can spread from here back into the bone, into an adjacent joint or into the soft tissues (Where there is an intra-articular physis)
Vertebral infection can spread through the end plate, disc and into the next vertebral body
3. Necrosis
At 7 days, rising pressure, vascular stasis, infective thrombosis and periosteal stripping compromise the blood supply to the bone resulting in bone death resulting in a sequestrum
4. New bone formation
At 10-14 days this forms from the deep surface of the stripped periosteum forming the involucrum
5. Resolution
With release of the pressure and appropriate antibiotics healing can occur
There may be permanent deformity
Unpublished work (quoted in Dee) shows that experimentally bacteria injected intravenously will settle in the metaphyses of bone preferentially
NB - in 10% of cases there is more than one site of infection.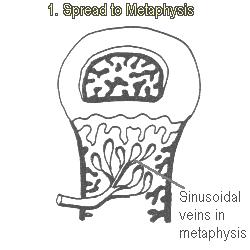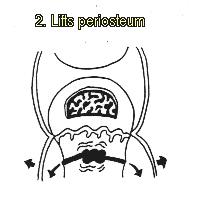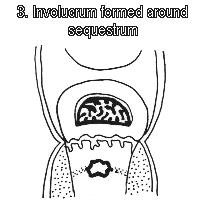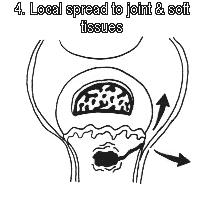 Clinical Features
Children (invariably)
Pain, malaise, fever
Limp or not weight bearing
Infants
Failure to thrive, drowsiness, irritable
Adults
The commonest site is the thoracolumbar spine (Batson's venous complex from the pelvis)
Other bones involved especially in DM, IVDA, immunosuppressed
Examination
Local erythema, swelling and tenderness indicates that the pus has broken through the periosteum
This is a preview of the site content. To view the full text for this site, you need to log in.
If you are having problems logging in, please refer to the login help page.