Bunionettes
Classification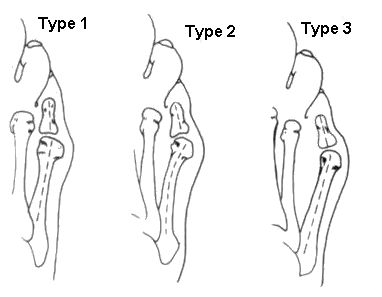 Type 1 - Enlargement of the 5th MT head
Type 2 - Lateral bowing of 5th MT
Type 3 - Widened 4-5 IMT angle
Surgical Treatment
If conservative treatment fails.
1. Chevron osteotomy for Type 1
'L' shaped capsule incision.

60deg. angle.

fix with K-wire.
2. Midshaft oblique osteotomy for Types 2 & 3
This is a preview of the site content. To view the full text for this site, you need to log in.
If you are having problems logging in, please refer to the login help page.