Tarsal Tunnel Syndrome & Nerve Entrapments
= Compression of the tibial nerve in the tarsal tunnel
Anatomy: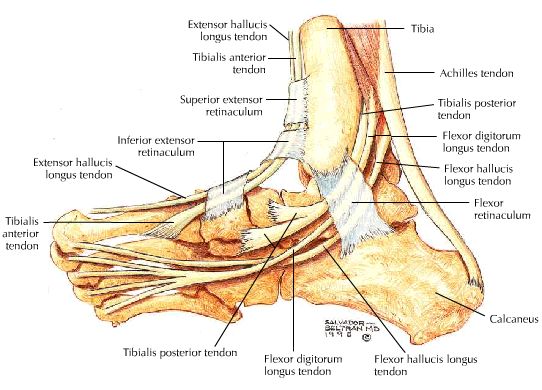 The tarsal tunnel is formed by the flexor retinaculum behind and distal to the medial malleolus
Contents from ant. to post.: (Tom Dick ANd Harry)
Tibialis Posterior Tendon
Flexor Digitorum Longus tendon
Posterior Tibial artery
Posterior Tibial Nerve
Flexor Hallucis Longus tendon
Posterior tibial nerve
is a branch of the sciatic nerve
enters the deep posterior compartment of the leg between the two heads of the gastrocnemius.
It passes deep to the soleus and travels distally between it and the posterior tibialis muscle.
3 terminal branches in the tarsal tunnel

medial plantar nerve - Sensation to the plantar-medial aspect of the foot from the great toe to the medial half of the 4th toe. Motor to the abductor hallucis, flexor brevi & the 1st lumbrical.
lateral plantar nerve - Sensation to the 4th & 5th rays & toes. Motor to ADQ, the interossei, adductor hallucis, 2nd to 5th lumbricals.
the calcaneal branch - can be of a variable origin. Provides sensation to the heel pad.
Aetiology:
An accessory FDL muscle
Proliferative synovitis - Rheumatoid
Ganglia
Varicosities
Lipomas
Neurilemomas
This is a preview of the site content. To view the full text for this site, you need to log in.
If you are having problems logging in, please refer to the login help page.