Rheumatoid Forefoot
Tim Williams, 2006
90% of RA pts have forefoot involved. ( = Hand incidence!)
15% of RA pts initially present with forefoot pain.
Pathology
MTPJ Synovitis & Pannus destruction
IPJ's usually Spared
Deformities
2nd-5th MTPJ Synovitis ? Capsular laxity ? P1 Dorsal subluxation / dislocation ? Prominent MT Heads as fat pad drawn distally ? METATARSALGIA & PLANTAR KERATOSES
Subsequent Intrinsic / extrinsic muscle imbalance ? CLAW TOE & DORSAL CORNS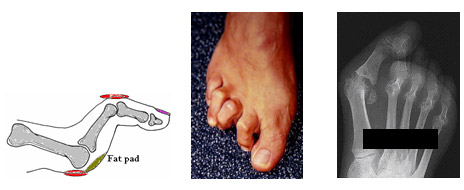 1st MTPJ Synovitis combined with loss of lateral support from lesser toes ? HALLUX VALGUS & BUNION
Larsen Staging (Acta Orthop 1977)
Stage I: No bony deformity. Discomfort and synovitis without significant joint space narrowing.
Stage II: Early involvement without fixed deformity. Minimal erosive changes.
Stage III: Soft tissue deformity. No significant joint erosive changes.
Stage IV: Articular destruction. Severe hallux valgus, dislocation of the lesser MTP joints with fixed hammer toe or claw toe deformities, pes planovalgus (flatfoot), and hindfoot arthroses.

TREATMENT OPTIONS
Multidisciplinary Approach
Non - Operative
Medical Optimisation (Rheumatologists & G.P.)

NSAIDS, Steroids, DMD's, anti-TNF etc..

Orthotics

Large Toe Box Shoes
Metatarsal Pads / Bars
Total Contact Insoles
Rocker Bottom Shoes

Physiotherapy - Try to maintain movement
Operative
Lesser MTPJ Surgery - Decompress the Joint to allow relocation
Synovectomy
Hoffman Procedure (1911) - Excision of

This is a preview of the site content. To view the full text for this site, you need to log in.
If you are having problems logging in, please refer to the login help page.