Ankle Arthritis
Updated by Alex Wee, 2005
Presentation:
Pain, may be referred to knee
Deformity " valgus or varus
Stiffness " particularly in dorsiflexion
Crepitus
Ask about smoking / DM / PVD " 4X rate of complications in smokers
Examination
Look :
Skin quality / colour / ulceration
Deformity
Gait
Opposite side
Single heel raise " if significant valgus deformity
Feel:
Pulses
Bony or soft tissue swelling
Tenderness localised to ankle joint / behind malleoli " think tendon impingement / tendonitis
Tenderness over ST joint line
Move:
Check for ROM, check with knee flexed and fully extended
Lock ankle joint and check for ST joint movement, and irritability
Investigations
Weight bearing films: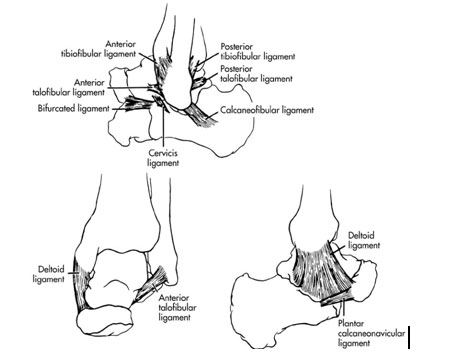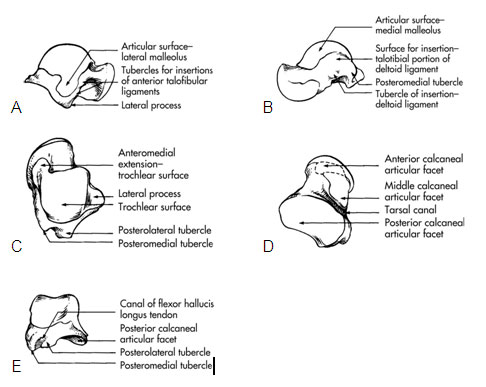 All weight bearing " ankle mortise and lateral ankle
Supplementary investigations only if required:
Inflammatory markers if indicated
WCC labelled bone scan if infection is suspected
MRI " with AVN talus
CT to assess degree of bony collapse " with AVN it tends to be central collapse of the dome with the periphery remaining intact
Aetiology
Most commonly due to either previous trauma or osteoarthritis
Previous ankle fractures " displacement of the ankle mortise of 1mm results in increase of 40% contact stresses at the ankle joint. The ankle joint takes 5-7x body weight
Inflammatory arthropathies e.g.: rheumatoid arthritis is less common
Treatment of ankle arthritis
Non-operative treatments:
Activity modification
Weight loss
AFO / Rocker bottom shoe / Moulded or leather ankle brace - orthotics can provide good symptom relief, and stability, although

This is a preview of the site content. To view the full text for this site, you need to log in.
If you are having problems logging in, please refer to the login help page.